The holistic approach to a smarter, greener and more sustainable port ecosystem
The PortForward Project Reference Information
Project Title: Towards a green and sustainable ecosystem for the EU Port of the Future
Project Acronym: PortForward
Maximum EU Grant Amount: EUR 4.994.311,25
Project Number: 769267
Starting Date: 01/07/2018
Duration in Months: 42
Call (part) Identifier: H2020-MG-2017-Two-Stages
Topic: MG-7-3-2017 The Port of the future
The Project Objectives
Smart Port Solutions
Employing ICT solutions to improve information flows between ports and port communities.
Green Port Solutions
Adopting green technologies to reduce the environmental impacts of port operations and save resources.
Interconnected Port Solutions
Combining different modes of transport and integrating different technologies to better monitor and control freight flows.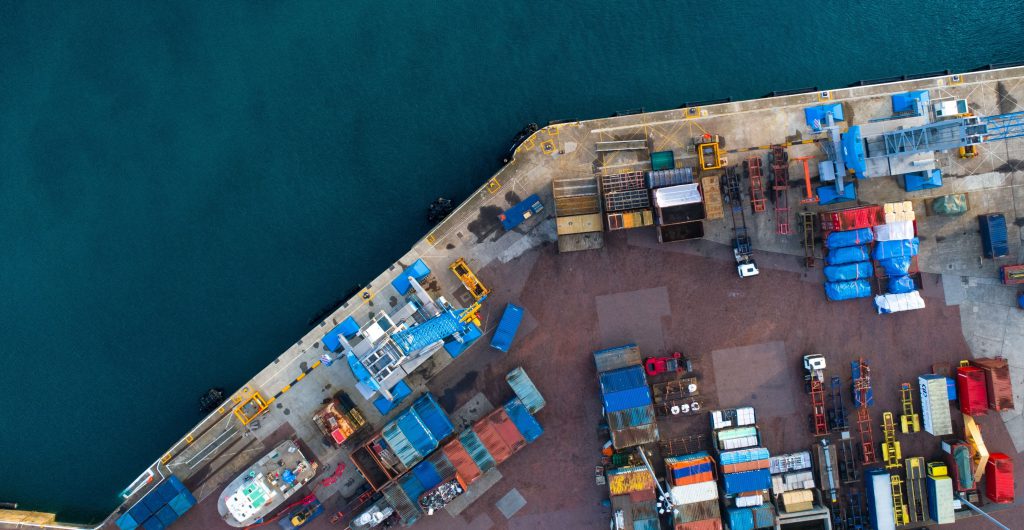 The Project Summary
The Port of the Future will be able to enhance sustainable development and to manage the resources to be invested and their employment for a competitive advantage. Therefore, the port of the future must be oriented to port community and have an operative strategic capability to work, in line with European purposes, on the following:
Smart, through ICT solutions, because it is important to improvement exchange of information flows between port and port community;
Interconnected with the use of a combination of different modes of transport and the integration of different technologies, because it is important to achieve better monitoring and controlling of the freight flows;
Green through the adoption of green technologies because it is important to reduce the environmental impact of port operations saving the resources.
All in all, sustainable development is the present and future for ports that want to lead the industry supported by three cornerstones: Operational Excellence, Insightful Collaboration with partners through the supply chain, and top notch Safety, Health and Environmental practices.
PortForward proposes a holistic approach that will lead to a smarter, greener and more sustainable port ecosystem and which will include the following features:
The introduction of an Internet of Things (IoT) concept for port assets (infrastructure, vehicles, cargo, people);
The socio-economic analysis of the port interface with its surrounding area and the port-city, as well as the rest of the logistics value chain.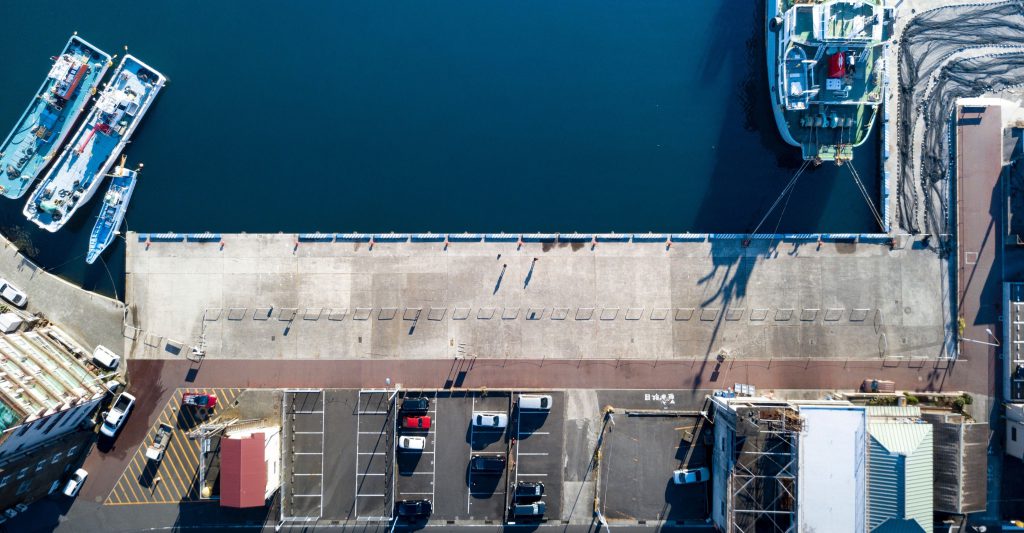 Our Challenges
Lack of efficiency in operations with heterogeneous freights (rollon/roll-off cargo, containers)
Need for real time monitoring of freight flows with end-to-end trackand-trace solutions to optimize port activities
Need for remote monitoring and management of important port operations, such as maintenance scheduling, cargo and passenger traffic, especially for short sea shipping cases
Interconnection with hinterland transportation with special focus on inland waterways
Interface with the surrounding urban environment
Experience sharing and transferability to other intermodal transport hubs
Environmental impact reduction using green technologies and energy solutions saving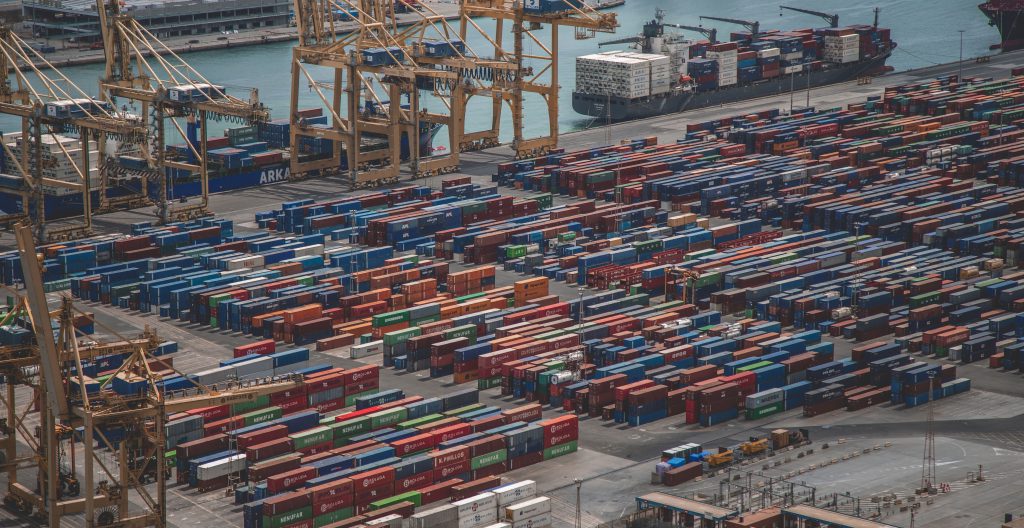 State of the Art Technologies
An IoT concept for port assets
Sensor deployment using e.g. cameras and multi-modal tracking devices
Interconnection into one seamless, versatile and secure IoT network
Remote management and intelligent maintenance tool
Virtual Port tool providing centralized control and alternative visualisations
Novel smart logistics platform with a decision support system (DSS)
Environmental and energy monitoring/ optimisation system using the novel concept of Green Yard Scheduling
Augmented reality (AR) for pilot assistance and remote assistance to workers/operators
The socio-economic analysis of the port interface with its surrounding area and the port-city, as well as the rest of the logistics value chain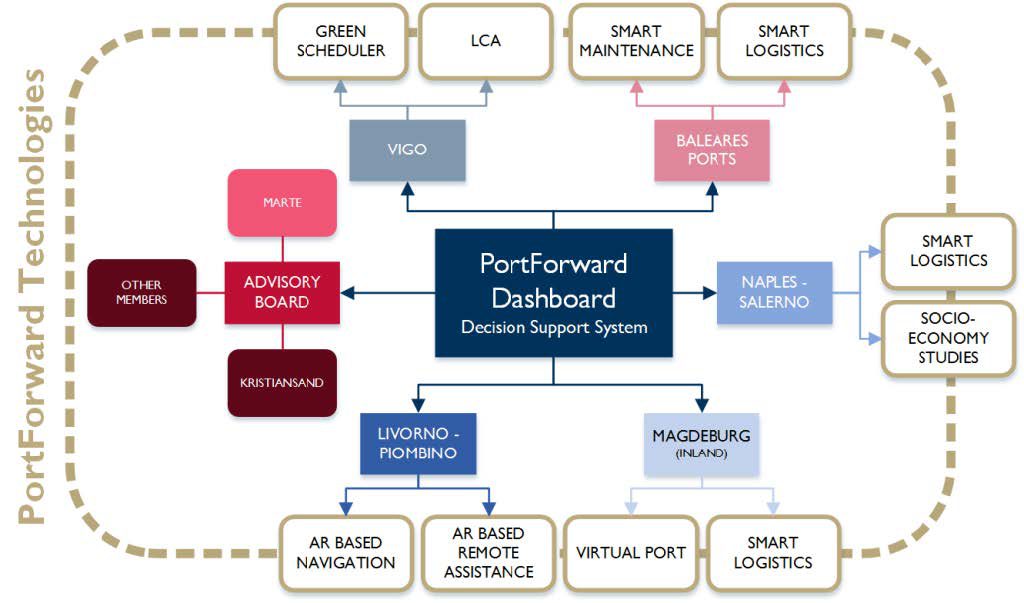 The Port of the Future
Smart through ICT solutions, enhancing the exchange of information
Interconnected with the use of a combination of different modes of transport and the integration of different technologies
Green through the adoption of green technologies